Formidably gripping drama-thriller on the verge of death
Review of Den osynlige / Invisible (2002) movie, by Stefan Stenudd

Swedish film generally remains in stating the obvious and sticking to the conventions of the time, but then there are those rare exceptions, reaching an unforeseen level. 'Invisible' is one of those few. A splendid achievement by the team Bergvall and Sandquist in their first full-length movie.
Supernatural fiction by Stefan Stenudd
Caroline meets those who do not age, and this ability can be transmitted. But there are grisly downsides. Click the image to see the book at Amazon (paid link).
A couple of years ago they got an Academy Awards nomination in the short film category, for 'Victor', also on the grave theme of death. 'Invisible' is based on a novel by the Swedish writer Mats Wahl, a mighty storyteller.
This story is indeed mighty. A high school senior, bound by his mother's high expectations, is beaten up brutally, due to a misunderstanding, by a delinquent girl of his age, and left for dead. When he comes to school the next day, he finds that everybody ignores him, as if he had become invisible. Soon, he realizes that he really is.
This slight ingredient of the paranormal, makes the story rise to a mythical magnitude, and the film makers, as well as the actors, manage to keep it there, to explore the grand perspectives suddenly appearing. Still, the very concrete psychological drama continues, and intensifies.
It all amounts to one formidably gripping experience, not easily forgotten. There are, of course, clear links to 'Sixth Sense' and a number of other movies about the mysterious borderland between life and death, and the necessity for our lives to reach some kind of conclusion, some kind of harmony, before passing on.
If searching for them, one can find some small weaknesses — like the unnecessary presence of a gun, or the inability of the dialogue to deal with those profound existential questions — but that's easily forgotten in the very touching and beautiful whole of the film, and more so after its uncompromising and magnificent ending.
Stefan Stenudd
28 January 2003
---
---
My Other Websites
Myths in general and myths of creation in particular.
The wisdom of Taoism and the
Tao Te Ching
, its ancient source.
An encyclopedia of life energy concepts around the world.
Qi (also spelled
chi
or
ki
) explained, with exercises to increase it.
The ancient Chinese system of divination and free online reading.
Tarot card meanings in divination and a free online spread.
The complete horoscope chart and how to read it.
---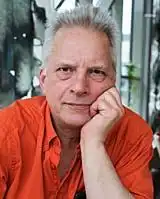 Stefan Stenudd

About me
I'm a Swedish author of fiction and non-fiction books in both English and Swedish. I'm also an artist, a historian of ideas, and a 7 dan Aikikai Shihan aikido instructor. Click the header to read my full bio.