Choose Your Weapons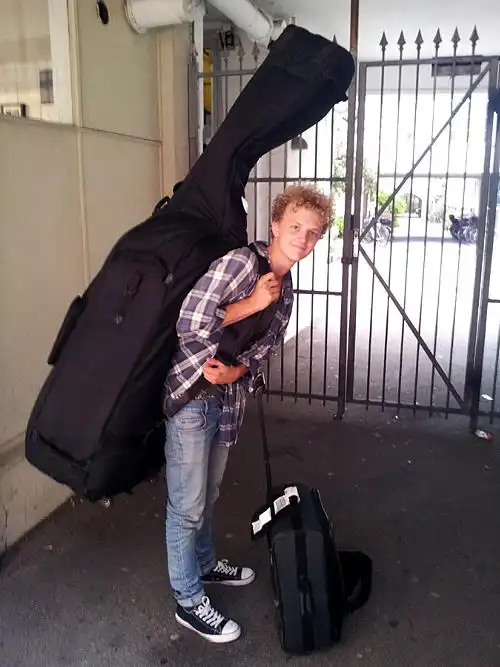 Musicians and Their Instruments, by Stefan Stenudd

In the arts, as well as at war, it's important to choose your weapons well. I wonder about musicians who go for the most unwieldy instruments. What were they thinking?
Supernatural fiction by Stefan Stenudd
Caroline meets those who do not age, and this ability can be transmitted. But there are grisly downsides. Click the image to see the book at Amazon (paid link).
I met this young man outside my hang-out restaurant in Malmö. The double bass he carries is almost twice his own size. How many times has he regretted his choice of instrument?
I suspect what I cannot prove: artists are born as such, but coincidence leads them to their means of expression.
I'm not even sure that the artistic talent is genre specific. We're not musicians, writers, or dancers from birth. We're artists, spending most of childhood searching – unknowingly – for a genre and an instrument by which we most readily express ourselves.
That's why it's not easy to define a talent by one art form only. A musician can be more of a poet, a dancer more of an actor, and so on. Coincidence decides. Also, the audience is unprejudiced. They will appreciate a singer for his dance moves, gladly forgiving his weak voice constantly out of tune.
Art escapes restrictions and contradicts definitions.
So, who knows what compelled the young man on the photo above to pick up such a great load? He might have been thinking about the old saying: art is 10% inspiration and 90% perspiration. In that case, he must be a great artist.
Stefan Stenudd
September 5, 2011
---
---
My Other Websites
Myths in general and myths of creation in particular.
The wisdom of Taoism and the
Tao Te Ching
, its ancient source.
An encyclopedia of life energy concepts around the world.
Qi (also spelled
chi
or
ki
) explained, with exercises to increase it.
The ancient Chinese system of divination and free online reading.
Tarot card meanings in divination and a free online spread.
The complete horoscope chart and how to read it.
---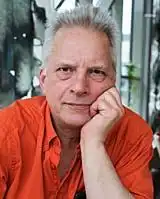 Stefan Stenudd
About me
I'm a
Swedish
author
of fiction and non-fiction books in both Swedish and English. I'm also an
artist
, an
historian of ideas
and a
7 dan Aikikai Shihan
aikido instructor
. Click the header to read my full bio.