Drawings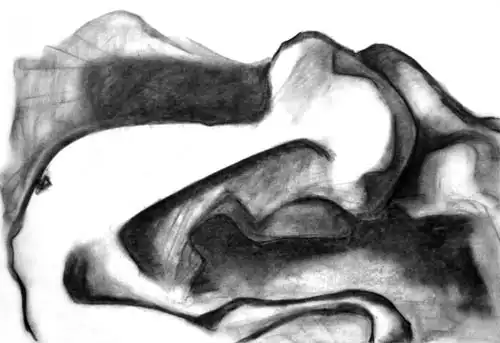 Portraits, Croquis and More, by Stefan Stenudd
Drawings with Charcoal and Pen
Most of the following drawings are quite old, now — from the 1970's and on. It happens that I make a bunch of drawings, but only occasionally. Nowadays, I tend to use the camera more, the automatic picture-generator. Push a button, and there it is — well, kind of.
My fingers sometimes ache of a lust to draw. So, I know there will be more of it, though years may pass in between. Anyway, here they are, sorted by decades. Starting with the 1970's, a period when I was quite devoted to the visual arts — like a passion, almost a religion.

Stefan Stenudd
Drawings from the 1970's
So far, I have made most of my artwork during the 1970's. I even enrolled in an art school in Stockholm, but left it after just a couple of months. And in the second half of the 70's I began writing fiction, which soon consumed most of my time.
Below are some of my drawings from that period. Quite a lot of them are from 1975, the year that I had my short rendez-vous with the art school.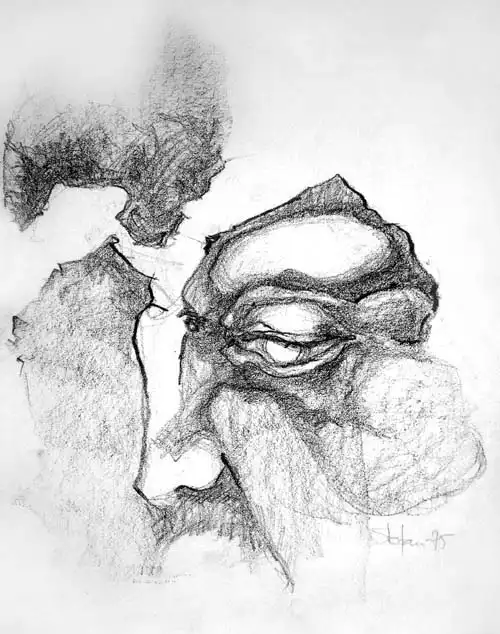 Face landscape
Drawing, 1975
Faces are complete landscapes. You can stroll around in them, and they change not only with time, but also with moods — those of the model or those of the spectator.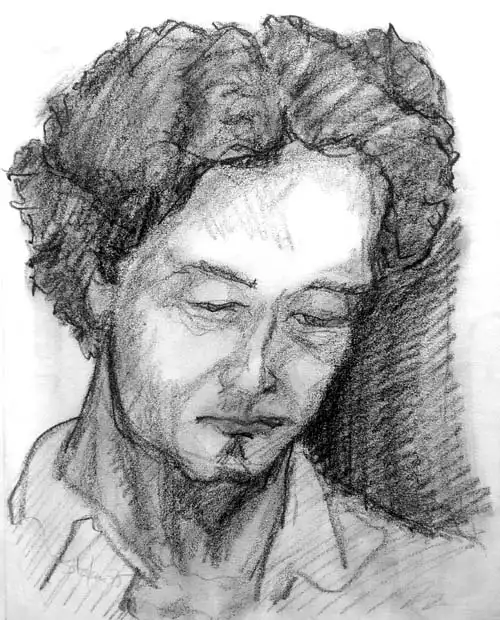 Portrait of a friend
Drawing, 1970's
Here is another face, more conventionally drawn. I find that more difficult, because your mind and your hand are tied. Also, basic drawing skills are badly needed. So, it's a kind of challenge. But not the goal.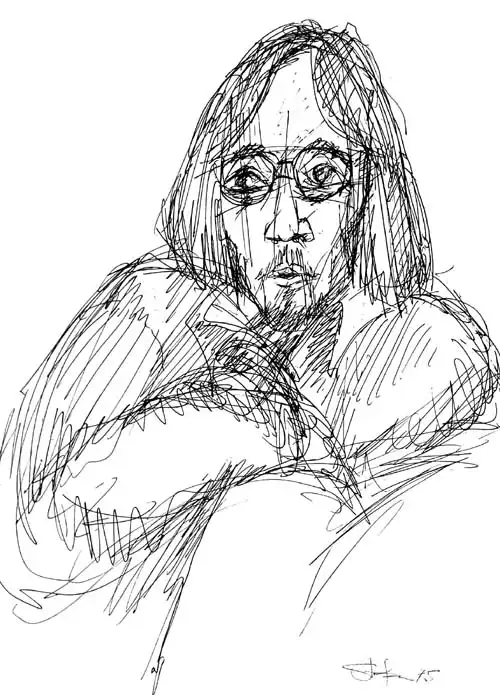 Man with glasses
Drawing, 1975
This is also a friend. When the face is there, it's hard not to make the body sort of a frame for it, roads leading to it. Posture, weight, movement — it's all pointing towards the features of the face. Here I have used a ballpoint pen instead of charcoal. The lines of it are merciless, like the ink brush in Eastern calligraphy.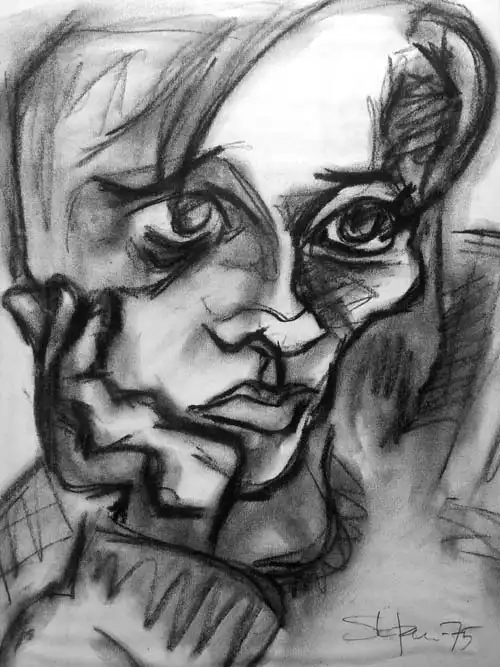 Portrait of a friend
Drawing, 1975
Another friend, drawn in a slightly less conventional way. The hand and the tilted head widen the focus from more than just the face.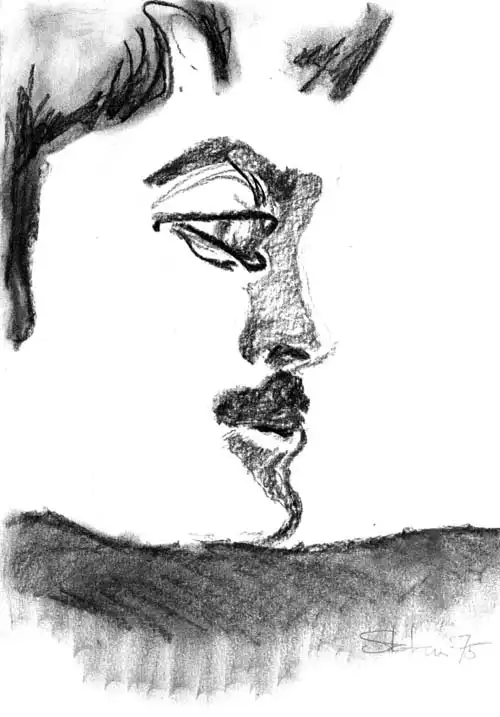 Profile of a friend
Drawing, 1975
Here is a friend — also an artist, by the way — drawn in profile. I was playing with bringing his characteristics down to a minimum. What makes us recognize each other? This profile is rare with me, because he is facing the right side. Almost always it tends to be the other way around, probably because I am right handed. I don't remember with any certainty, but this might have been an intentional challenge, when making the drawing.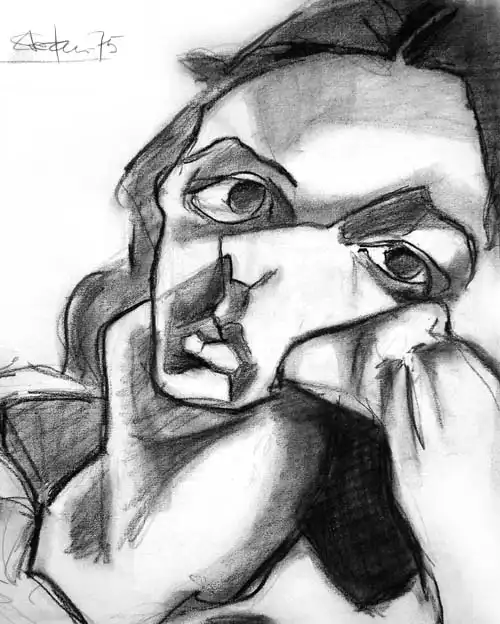 Portrait of a friend
Drawing, 1975
Another portrait — and landscape. This terrain belonged to a friend of mine, who surely had a hard time recognizing himself in this portrait. Me, though, I have no problem seeing lots of him in it. Well, maybe it's all in my mind...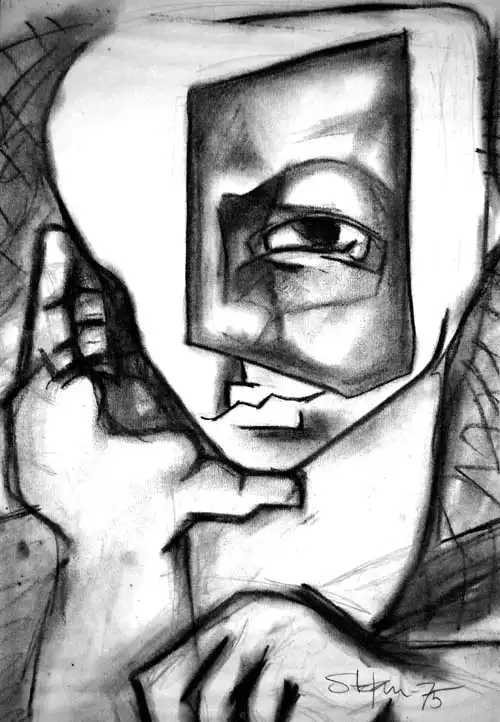 Face and hands
Drawing, 1975
This is not a portrait of a friend, but an imaginary face sort of dissected by the pen. It seems to be a sketch for a painting, which it may very well be — I don't remember. I made several paintings looking like that, in the mid-70's. Honestly, drawing has always come easier to me than painting — less to think about, less technical aspects of which to be aware.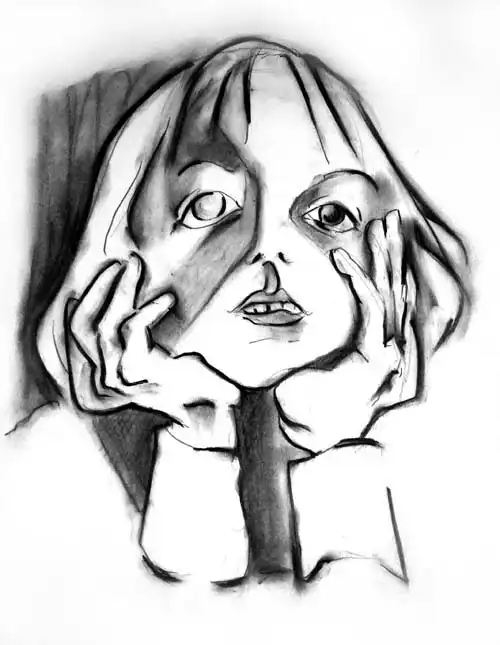 Portrait of a child
Drawing, 1970's
In this portrait, too, the hands are instrumental. They are not mere poles on which the head rests, but as much part of the personality as the face and its expression is.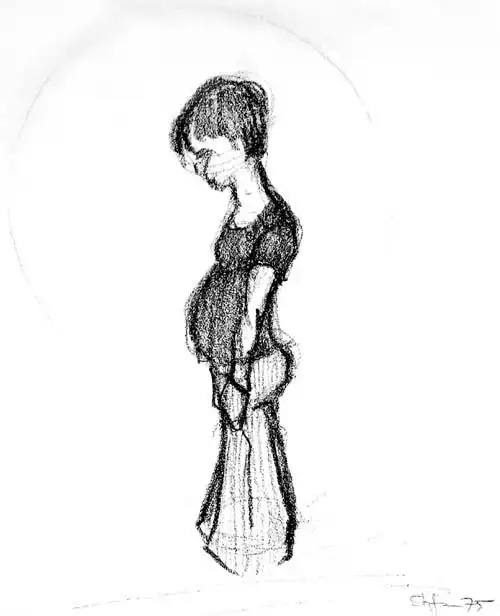 Little boy
Drawing, 1975
Time to leave the portraits for a while. Here is a quick sketch of a little boy — from head to toes. Notice the design of the pants — so 1970's. And I thought it would never go out of fashion...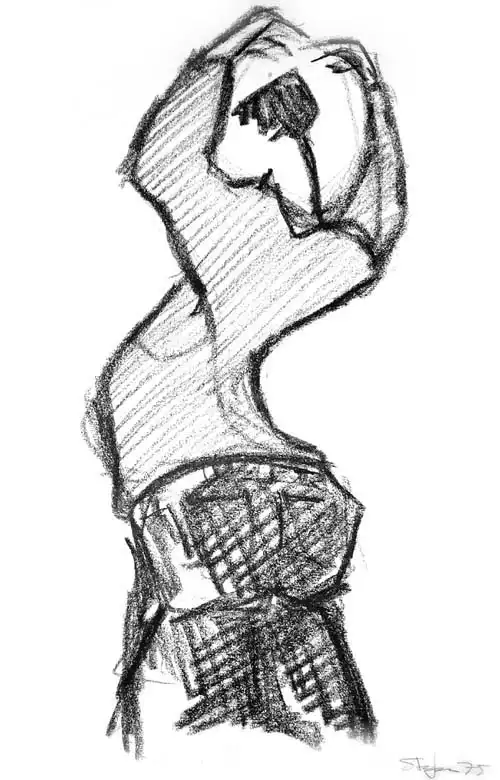 Man extending his arms
Drawing, 1975
This posture is similar to that of the boy above, except for the arms. I find that in drawings and paintings, postures need to be exagerrated to be alive. I guess it's sort of the same with people in the real world. And this exagerration opens for wilder artistic interpretations of the human body.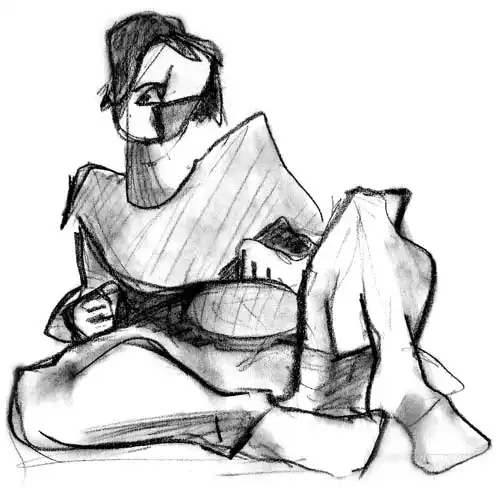 Seated on floor
Drawing, 1970's
This figure relaxing on the floor gives clues to the geometry by which our bodies are made and move about. The dynamics of mathematics are everywhere.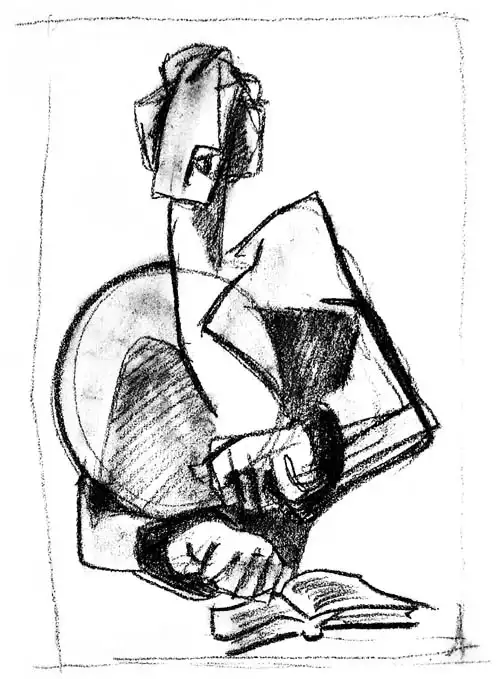 Reader
Drawing, 1970's
Another example of the sort of geometrical view on the body, which I got increasingly interested in during the 1970's — and on.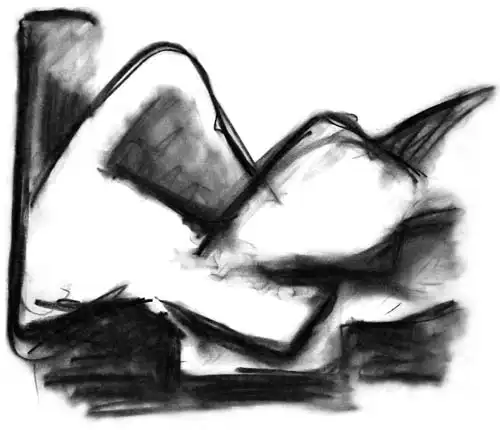 Back
Drawing, 1970's
Here, the body has become very close to a sculpture. I guess you could say that my way of drawing mostly comes close to the sculptural, as might be seen in this drawing as well as several of the following. Sculpture, on the other hand, I have rarely been... drawn to.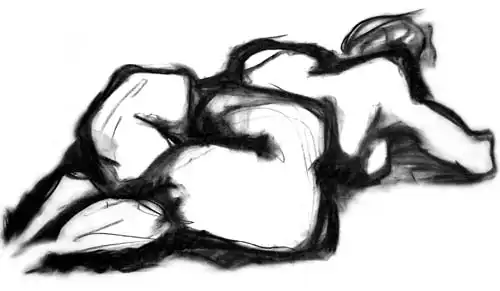 Woman from behind
Drawing, 1975
Here, a woman is seen from the same side, in an angle that most would not find very flattering. It's almost like her body is made of two parts, like some kind of insect.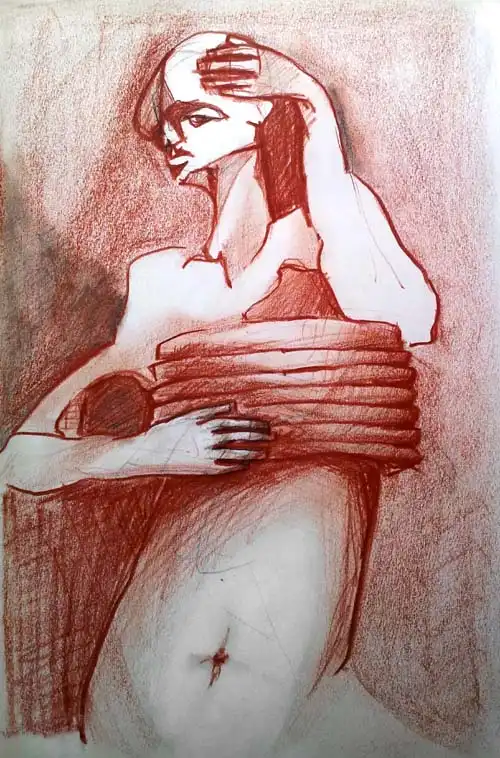 Aching
Drawing, 1970's
This is a red chalk drawing. I have frequently returned to this way of drawing the ribs, even in some of my most recent paintings.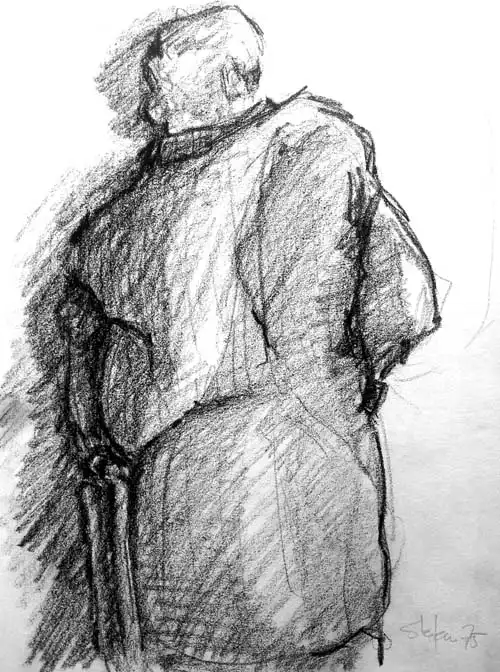 Man turning his back
Drawing, 1975
The back speaks plenty even from behind, as well as fully dressed. This might not really be suited for a sculpture, but I was thinking about a body and its weight.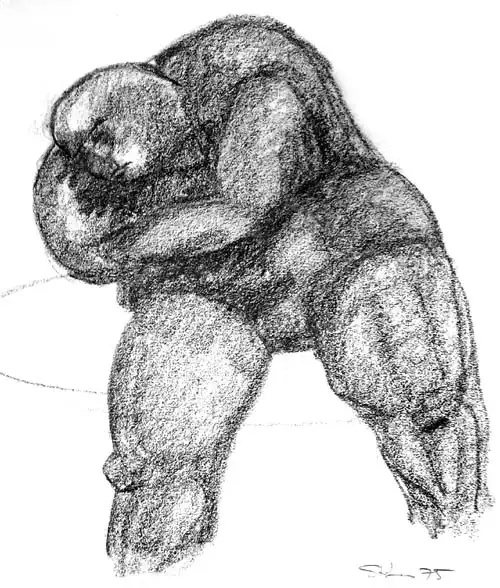 Heavy man
Drawing, 1975
Another person turned into a sculpture. This one would need to be in granite.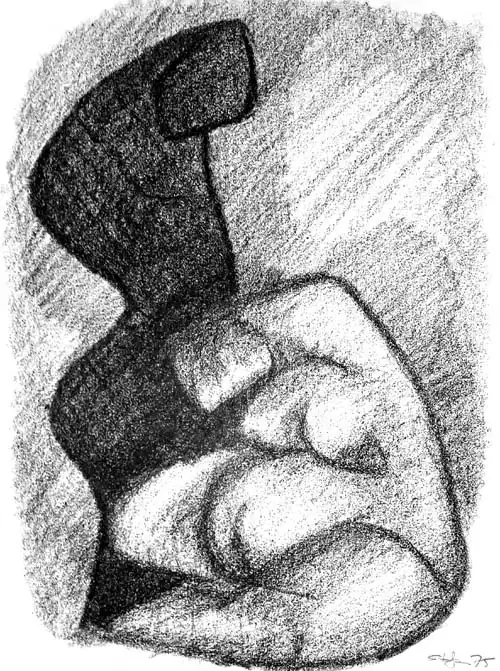 Melancholy couple
Drawing, 1975
Here are two bodies forming kind of a sculpture. This simplification of bodies into little more than basic geometrical shapes is typical for modern sculpture, but I find it much more exciting in two-dimensional art. It's like the figures try to swell into the third dimension.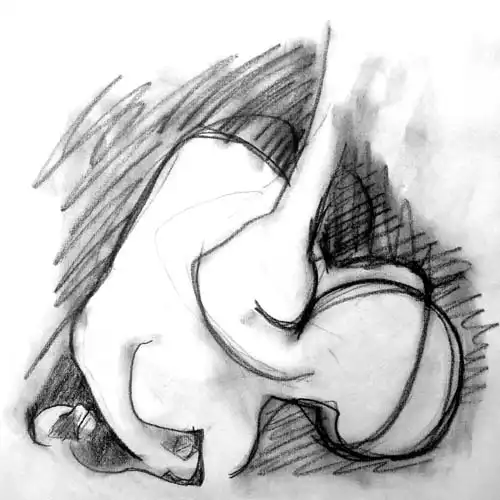 Embrace
Drawing, 1970's
I call this an embrace, but it is probably obvious what kind of embrace it is. I also made a painting with this motif. Two bodies merging into one.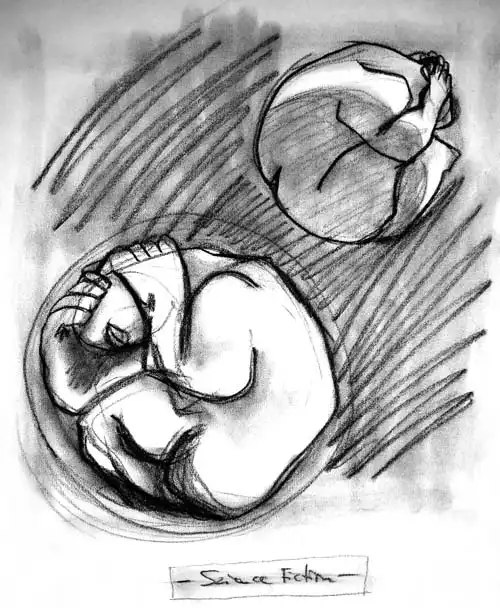 Science fiction
Drawing, 1970's
I think agile people are quite able to form themselves into balls. The science fiction in this case is that they are celestial bodies travelling through space. Obviously.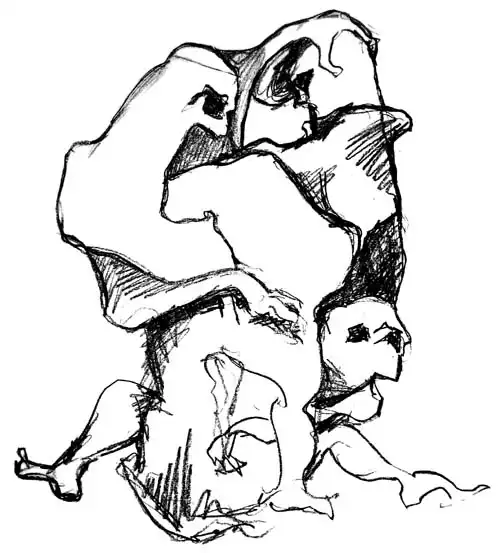 Quarrel
Drawing, 1970's
Whether in embracing or fighting, bodies blend together. Funny, isn't it? Whatever people do with each others, basically it's all the same.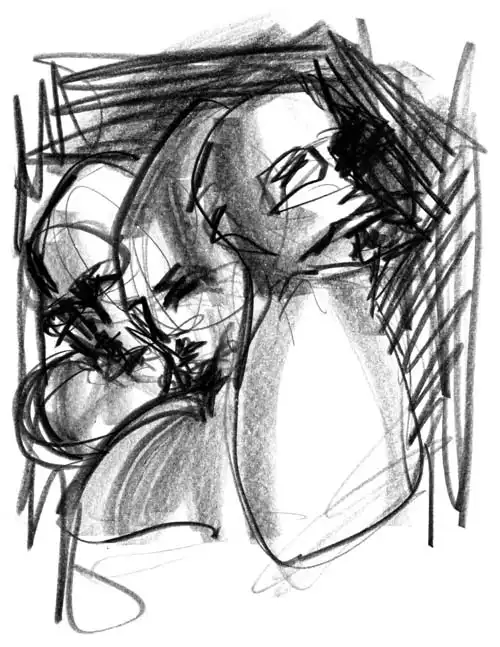 Three faces
Drawing, 1970's
These three also blend together, as if really really agreeing. Still, they don't seem to be that amused.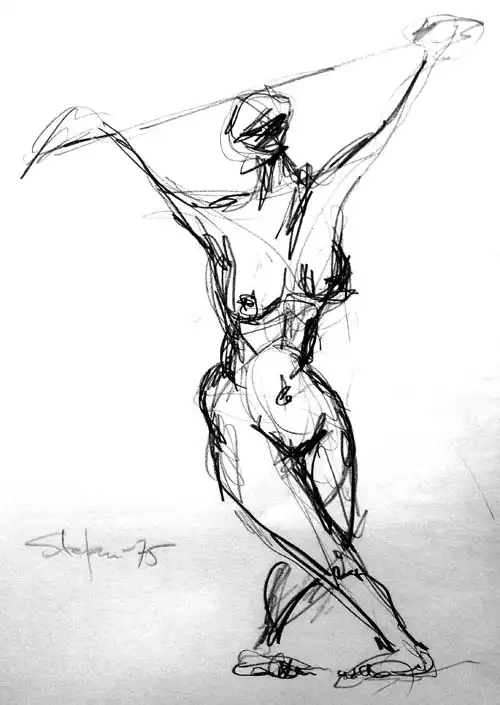 Standing woman
Drawing, 1975
Here is a quick croquis. I probably made it in my brief time at the art school. Movement and weight.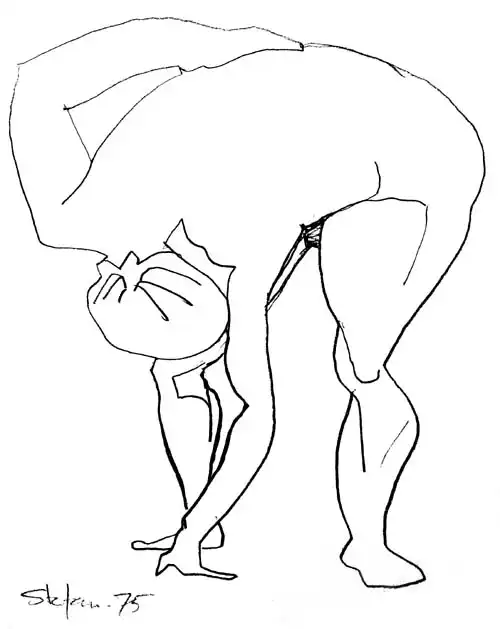 Woman bending down
Drawing, 1975
Another quick croquis, surely from the time in the art school. When not trying to turn paper into sculpture, Iv'e also always enjoyed finding the minimum lines needed.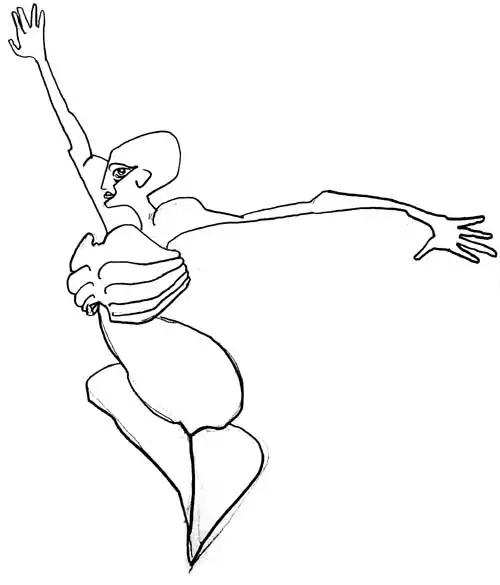 Dancer
Drawing, 1970's
Here is another example of my minimalist drawings. Almost like a glyph.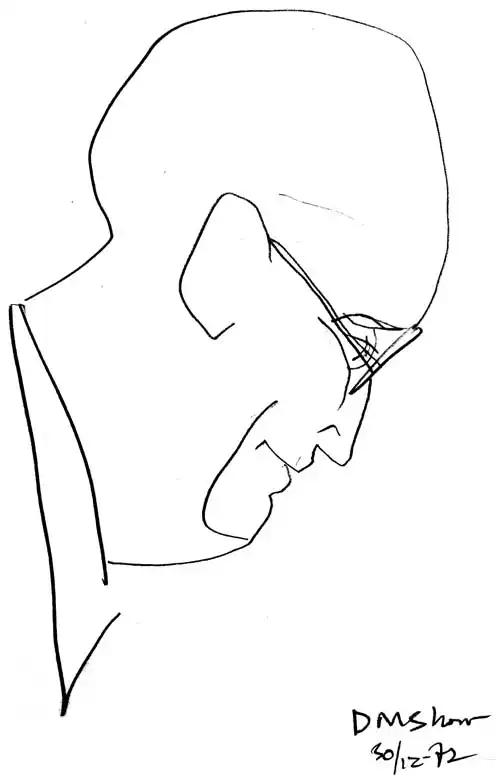 Profile with glasses
Drawing, 1972
I often use the same minimalism when doing portraits. Here is one from a few years before most of the others. A quick sketch of a guy I saw on TV.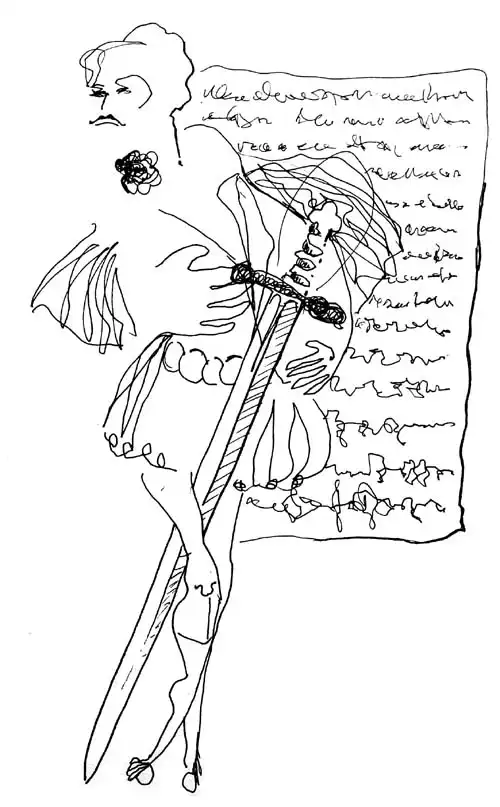 Hamlet
Drawing, 1970's
This is one of my personal favorites. I find it amusing, with his pose, the big sword, and the gibberish written behind him. I hope Shakespeare had the same sense of humor. Let's involve the classics. Just as well, since art is mainly a dialogue with artists of the past — and of the future too, of course.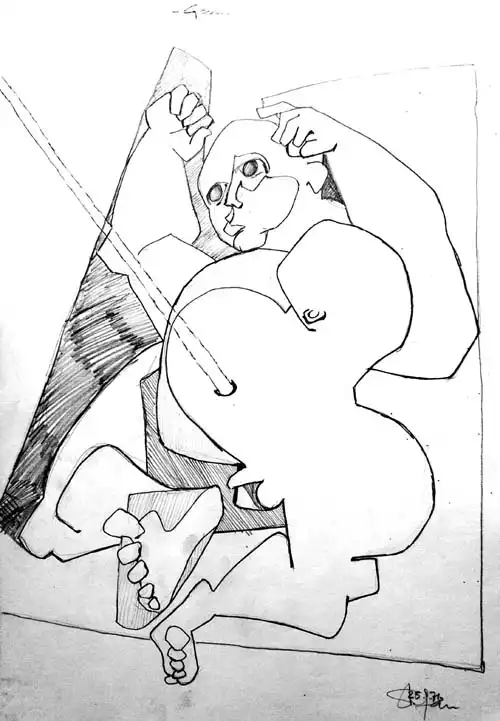 Genesis
Drawing, 1976
I bet this drawing was in preparation of making a similar painting. But I think it was never made. Not that my memory should be trusted that much.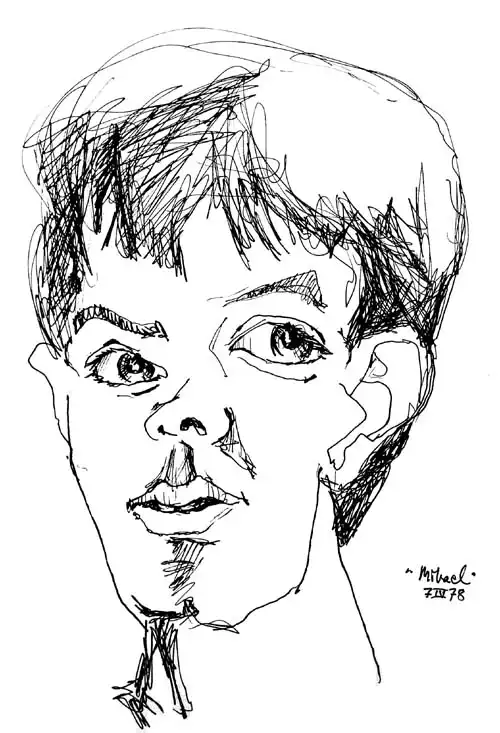 Portrait
Drawing, 1978
This friend of mine is also on one of the portraits above, though a few years earlier. Can you guess which one?
Live Drawing
Video filmed drawing
This is more recent, from 2008. I draw a portrait with some complications. It's hard to decide when to stop. I did speed the film up a bit, not to burden the patience of the viewers too much.

Click the header to see the drawings of that decade.
---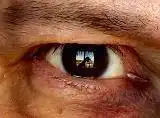 ART
---
---
My Other Websites
Myths in general and myths of creation in particular.
The wisdom of Taoism and the
Tao Te Ching
, its ancient source.
An encyclopedia of life energy concepts around the world.
Qi (also spelled
chi
or
ki
) explained, with exercises to increase it.
The ancient Chinese system of divination and free online reading.
Tarot card meanings in divination and a free online spread.
The complete horoscope chart and how to read it.
---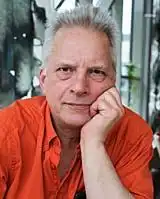 Stefan Stenudd

About me
I'm a Swedish author of fiction and non-fiction books in both English and Swedish. I'm also an artist, a historian of ideas, and a 7 dan Aikikai Shihan aikido instructor. Click the header to read my full bio.