Video Recitals
Video Filmed Poems
Lately, I have worked a little with the video camera and Pinnacle Studio software. Tiny experiments, mostly for the fun of it, containing some poems and such. I have put them on Youtube, but you can access the video recitals of my poems below. Here is my art videos channel on YouTube, if you prefer going there:
When dogs die
Syllable poem
Do dogs become ghosts? A video filmed poem about souls. I call it a
syllable poem
, because it consists of only one-syllable words. The dog's name is Max. It was still very much alive when I posted this video, but later its owner told me that's not the case anymore, sadly.
Click here to read the poem.
Grail
Poem
Give me a drink that saves my soul... In search of an elixir poured into a Holy Grail.
Click here to read the poem.
I like to watch
Syllable poem
I like to watch. Don't you? This is a syllable poem about the pleasure of watching, and the question who is who.
Click here to read the poem.
Life, that is.
Syllable poem
What's the meaning of life? And how to find it? A syllable poem about what would be sure to make life worth our while.
Click here to read the poem.
What god are we talking about?
Poem
My thoughts on the basic questions of theists and atheists alike: If a god exists, and if so — what kind of god?
Click here to read the poem.
Love in the snow
Syllable poem
Love and death and snow. A syllable poem about how they relate when I walk with a hole in my shoe.
Click here to read the poem.
I C U
Letter poem
Who is watching, and who is being watched? Here's a letter poem about it. I call it a letter poem, since it is made up entirely of single letters.
Click here to read the poem.
Murder
Book excerpt
Occasionally I contemplate murder... The beginning of a book of mine. More about the book here:
Murder
---
My Books
---
---
My Other Websites
Myths in general and myths of creation in particular.
The wisdom of Taoism and the
Tao Te Ching
, its ancient source.
An encyclopedia of life energy concepts around the world.
Qi (also spelled
chi
or
ki
) explained, with exercises to increase it.
The ancient Chinese system of divination and free online reading.
Tarot card meanings in divination and a free online spread.
The complete horoscope chart and how to read it.
---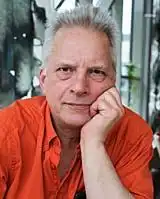 Stefan Stenudd
About me
I'm a
Swedish
author
of fiction and non-fiction books in both Swedish and English. I'm also an
artist
, an
historian of ideas
and a
7 dan Aikikai Shihan
aikido instructor
. Click the header to read my full bio.