Fabulous fiction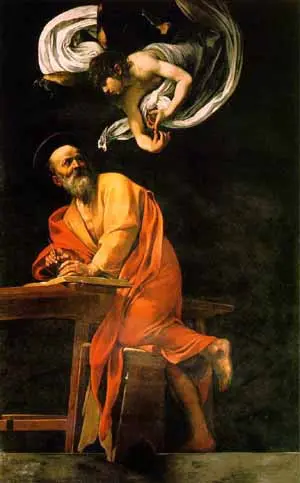 Some of my favorite novels
The painting above is by Caravaggio, the very adventurous artist of 17th century Italy. The storyteller inspired by an angel is Saint Matthew, but I like to believe that such divine inspiration can also be bestowed authors with motifs more profane.
Whatever the case may be, here are some writers and books that inspire me, just as were they delivered by angels. I also try to explain shortly, what fascinates me about them.
Certainly, the treasure of world literature is too rich to be explored only in this manner — I just made a very small selection, for your amusement. The links go to Amazon, where these books can be ordered from anywhere in the world. I am an Amazon associate, which means that for books sold through this my linking to them, I will be rewarded a minor percentage. That will surely not make any more impact on my economy than it has made on my judgment.


Miguel de Cervantes
Don Quixote is such a huge classic, that few people are aware that Cervantes wrote other things too — some (not so) short stories, which are true masterpieces as well. I remember "The power of the blood" as being almost evangelical in its clarity on human psyche and conditions. This true action man of 16th century Spain was a magician with the pen, utterly profound in his humorous stories. There are not many writers who equal him, and probably none that surpasses him.

Boccaccio
When the plague hit middle age Italy, some ten aristocrats fled from the town to the countryside for a time, where they spent their days telling stories to each others — lovely tales about all things human, very human. Even right here on the very information super highway, I dare state that the book makes it obvious: man has not changed much since (thank God). Boccaccio presents us with a good mirror of what we are, whatever we pretend to be.

Saint Exupery
There are several children's books belonging to a world top list of literature, like A A Milne with his Winnie the Pooh, and Exupery with his all too short book about the Little Prince. A more delightful story, sad in the middle of its lovable air, is not easy to find. The creatures he meets teach the prince things that people with bigger words, and a larger quantity of them, cannot grasp at all.

Mark Twain
I believe that the most prominent feature of American literature is the kind of simplicity and great sense of humour, in which Mark Twain excels. Many of his short stories, as well as his novels, are true eye openers. With the Connecticut yankee at the court of king Arthur, we can enjoy ourselves and still continuously contemplate with Twain the sweet absurdities of the human nature.


Kurt Vonnegut
A writer clearly in the charming tradition of Twain is Vonnegut, who was so popular in the 70's that by the law discovered by Andy Warhol (the fifteen minute world fame) he has now been put in the shade. Many of his books, especially up until Breakfast of Champions, are hilarious with their black humour and their mind blowing stories. I take myself the liberty of suggesting two of them: Cat's cradle is (among numerous other things) about Ice 9, a substance that can make all water freeze. Slaughterhouse Five is probably his major work, in some strange and dreamlike way about the World War II bombing of Dresden, where he was a prisoner of war at the time.

William Saroyan
Although an immigrant from Persian territories, Saroyan fits right into the American Twain tradition of writing. The attraction his texts have on me, I can not explain — there is such a warm and compassionate human being coming through the lines of his books, a benevolence that makes his writing shimmer. It is puzzling to me, why his position in the world of literature is not more prominent.
Oscar Wilde
The humour of Oscar Wilde is quite different from Twain & Co., in style but not really in its foundation. His sharp tongue was mainly aiming at prejudice and all those morals worldwide, which seem to regard anything enjoyable automatically sinful — in which case Wilde does not hesitate to count among the sinners. The fairy tales have messages of equal sharpness, but they are beautiful — romantic in the very best sense of the word.

Arabian Nights
Among fairy tales it is safe to say, that Arabian Nights (or more correctly A Thousand Nights and One Night) surpasses them all. This collection from the centuries around the year 1000, includes every possible aspect of human existence, and always with such flavor, color, music. The translation of this linked version of the book I am not familiar with, and that's a matter of some importance. Because of the explicit nature of those fairy tales (though always in wonderful taste, not at all meaning restrictions on the eroticism), they have been censored more than not. Sir Richard Burton (not the actor) made a version in the late 19th century that is as admirable as it is hard to find. It should be reprinted. Actually, a substantial part of it, from his first version, can be found on Internet, where literary classics are stored on FTP.

E.T.A. Hoffmann
The Nutcracker and the Golden Pot are two of Hoffmann's most famous stories, in this book for less than a dollar. Hoffmann, maybe today most famous for the ballet based on the first of these stories, was the most remarkable of the early 19th century romantics, his texts carrying a splendidly poetic language and strangely dreamlike stories, adding to a hypnotic effect. He might not be the talk of the town at this very moment, but he is sure to have his revivals, again and again.

Fjodor Dostojevskij
You might have wondered if he were to appear at all in my list, the giant I chose above to spell in the Swedish fashion. What a character! His life was not a bit less than any of his stories: a fake execution, years in a Siberian prison — how could he not have become a writer of this magnitude? Brothers Karamazov is his last and most sublime novel, like all his writing saying infinitely more than what's written on the lines, don't ask me how.

Michail Bulgakov
In world literature, the russians have such a prominent place — more than in the Olympics — that they cannot have only one representative, although he weighs like a hundred. Bulgakov from the first half of our century experienced the communist revolution and did not approve — still, Stalin seems to have admired him, and spared his life even when others demanded it. The story about the Master (Lucifer himself) appearing and putting up a show (literally too) in Moscow, is a comment not only on the Soviet regime but on everything else you can ever think of. Mainly, it claims the right and the necessity of fantasy, of dreams and visions. Thus, it is a good ending for our list.
---
My Books
---
---
My Other Websites
Myths in general and myths of creation in particular.
The wisdom of Taoism and the
Tao Te Ching
, its ancient source.
An encyclopedia of life energy concepts around the world.
Qi (also spelled
chi
or
ki
) explained, with exercises to increase it.
The ancient Chinese system of divination and free online reading.
Tarot card meanings in divination and a free online spread.
The complete horoscope chart and how to read it.
---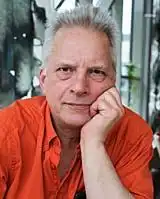 Stefan Stenudd
About me
I'm a
Swedish
author
of fiction and non-fiction books in both Swedish and English. I'm also an
artist
, an
historian of ideas
and a
7 dan Aikikai Shihan
aikido instructor
. Click the header to read my full bio.