TORI
UKE

Starting position. Tori at left, uke at right.

1
Starting with jo by left side, facing uke.
Starting in chudan kamae, sword drawn and held at middle guard, facing tori.
2
Step forward with left foot.
3
Step forward to the right with right foot, turn jo over to the right, grab with both hands.
Step forward with right foot, chudan tsuki, thrust to middle level, in the direction of tori's original position.
4
Harai with the jo, in a semi-circular move from right to left, pushing uke's sword a bit to uke's right.
5
Continue jo movement, move left hand to grip left end of jo.
Draw sword to jodan kamae.
6
Chudan tsuki, strike at middle level, pushing uke back.
7
Fall back one full step with right foot, when pushed by tori, and keep sword in jodan kamae.
8
Pull jo slightly back, open left hand grip to slide on the jo. Step to the right with right foot, left foot following. Gedan uchi, hit to the knee.
Step forward with right foot. Chudan giri, cut to middle level.

9
Draw jo up to jodan kamae. Turn right hand grip on jo.
10
Turn body toward uke, left foot following. Yokomen uchi, strike to the left side of uke's head.
11
Yield sword to migi no waki, right side guard.
Retreat three steps.
12
Pull jo back to chudan kamae, middle guard.
Step back to the starting position.

Ending position.

TORI: Stefan Stenudd
UKE: Tomas Ohlsson
Myths in general and myths of creation in particular.
, its ancient source.
An encyclopedia of life energy concepts around the world.
) explained, with exercises to increase it.
The ancient Chinese system of divination and free online reading.
Tarot card meanings in divination and a free online spread.
The complete horoscope chart and how to read it.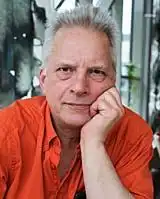 Stefan Stenudd
About me
I'm a
Swedish
author
of fiction and non-fiction books in both Swedish and English. I'm also an
artist
, an
historian of ideas
and a
7 dan Aikikai Shihan
aikido instructor
. Click the header to read my full bio.