TORI
UKE

Starting position. Tori at right, uke at left — for reasons of visibility — but in the text below, tori moves are in left column, uke in right.

1
Starting with bokken in belt, uke on forward right.
Starting in chudan kamae, sword drawn and held at middle guard, tori on forward left.
2
Step forward with right foot, into front of uke.
3
Turn right foot and body toward uke, step with left foot forward, nuki tsuke draw.
Step forward with left foot, lift sword to jodan kamae, over the head.

4
Slide further forward and to the left with the left foot, cut one handed do, side cut on waist level, body twisting sideways and sword continuing to a horizontal position near the body.
Step forward with right foot, chudan giri, cut to middle level, in the direction of tori's previous position.
5
Swing the sword around in a vertical circle up to jodan kamae. Turn body to uke, right foot to left foot.


6
Immediately after jodan kamae, right foot half step back and men, straight cut to the head.
7
Yield sword to migi no waki, right side guard.
Retreat three steps.
8
Slide right foot back, lower sword to gedan.
Left foot full step back.
9
Reverse right hand grip on the sword, flip the sword around, chiburi gedan, "shake off blood" downward.



10
Noto, sword back into scabbard.
Step back to the starting position.


TORI: Stefan Stenudd
UKE: Tomas Ohlsson
Myths in general and myths of creation in particular.
, its ancient source.
An encyclopedia of life energy concepts around the world.
) explained, with exercises to increase it.
The ancient Chinese system of divination and free online reading.
Tarot card meanings in divination and a free online spread.
The complete horoscope chart and how to read it.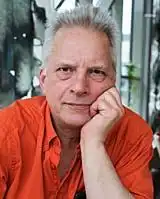 Stefan Stenudd
About me
I'm a
Swedish
author
of fiction and non-fiction books in both Swedish and English. I'm also an
artist
, an
historian of ideas
and a
7 dan Aikikai Shihan
aikido instructor
. Click the header to read my full bio.